Course Materials FAQ
Updated Jan. 4, 2023
How do I know what textbooks I need for my class?
Our website
bookstore.dal.ca
is a good place to start. Just click
Textbook Search
under the Textbooks tab and use our textbook search tool. Our website is constantly being updated as orders for textbooks and other course materials are received and processed, so
it's a good idea to check the website regularly
. If you don't find your course or a textbook for the course, you should contact your instructor or consult your course syllabus.
Is it the professor who communicates to students what books they need?
Yes, any textbooks or additional course material needed for a course – including where they can be obtained – are provided by your professor. This information is often shared through the course Brightspace page. You can also check the Dal Bookstore website.
Does the student have to find out from each professor, or do they get a list of textbooks they need from their faculty?
Any required textbooks or other course material are communicated by the faculty or found on the Brightspace page for the courses. You can also check our website under
Textbooks
.
How do I order textbooks and course material through the Dal Bookstore website?
To begin, click on Textbooks. Textbooks are organized by the campus where your faculty is based, the academic term, and then the course the textbooks are for. Your search begins by selecting your campus where your program is based.
To refine your search, you will be served with a series of dropdown lists beginning with the term for the course you're registered in. That will be followed with the option to select your program, such as Biology, Commerce, Law, Music, etc., and then – under that – your course.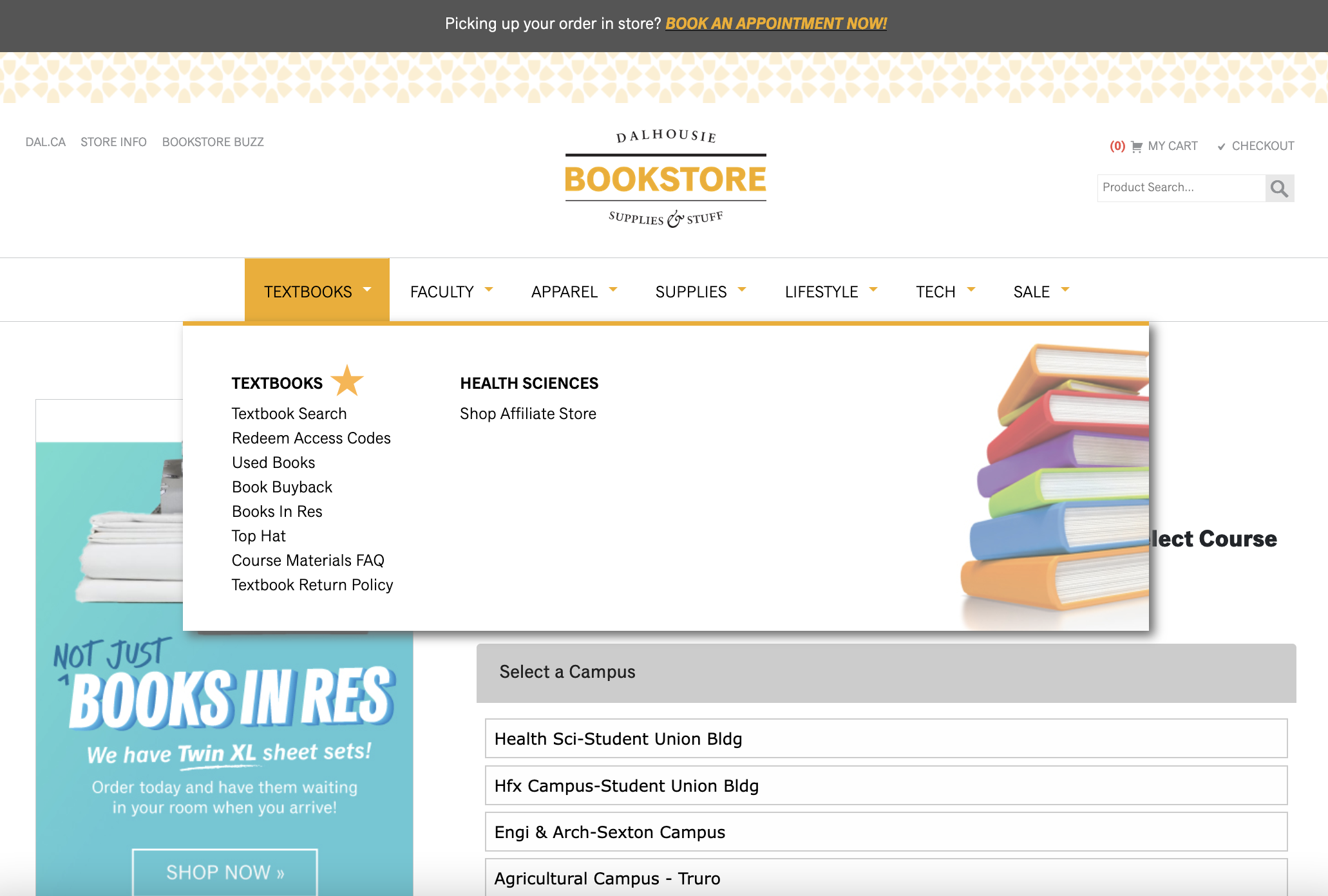 How much does it cost to have my print course materials delivered? How long does that take?
Shipping costs vary based on several factors, including the weight of textbooks ordered, where they are being shipped to – locally, nationally or internationally – and through what courier (Canada Post, Purolator, FedEx, etc.). Visit our Shipping Info page for more details.
You can save money by ordering digital versions of textbooks. The Dal Bookstore has made a commitment to offering digital versions of textbooks whenever possible. They can be purchased through the Dal Bookstore's website, where available, using the Textbooks Search tool.
What textbook formats are available?
Some textbooks are available in different formats:
Not every textbook is available in all these formats – often it depends on the publisher – but as much as possible we try to give a variety of options and prices to choose from.
Digital textbooks are growing in popularity among both faculty and their students, and in response we're always looking to carry more of these wherever possible. They are typically less expensive than a new, hard copy textbook.
The

title

I want is out of stock; what do I do now?
If it
is
a textbook, you will be able to see if the book has been re
-
ordered. Delivery timelines depend on where the publisher is located and whether they have the book in stock.
How do I know if my web order went through?
As soon as you successfully place your order, an email confirmation is sent to the email address that you provided. Occasionally these may end up in your spam folder, so we recommend checking there if it
is
not in your inbox. If you closed the order window before you saw a confirmation that the order was successfully placed on the website, then your order may have been approved by the payment processor, but this approval may not have flowed back to our website. Please
reach out to us
if you cannot locate your order confirmation email.
Why is my transaction being declined?
There are a few reasons a transaction might be declined:
• There could be insufficient funds in the account
• The account may have a daily maximum limit that may have been exceeded
• A bank outside Canada may block a transaction, suspecting it is fraudulent
• Visa debit cards sometimes work and sometimes don't, depending on the bank
How long will it take to process my web order?
Order turnaround timelines are based on order volumes. Online orders are typically processed and shipped in
one
to
two
business days during regular operations.
At the beginning of each term
, this period can extend to
two
to
four
business days from the time your order is placed until it is shipped or ready for pick
up. Throughout the process, you will receive automated communications that provide updates on your order.
How can I track my order?
As soon as a shipping label is generated for your order, you will receive an email with tracking information. You may need to wait up to
one
business day before this tracking number is live in the
courier
's
tracking software. Items are often not scanned by the
courier
until they reach the depot.
My order arrived damaged, what can I do?
Please send an email to
Shauna.Nickerson@dal.ca
. Be sure to take photos of any damage to the packaging as well as photos of the damaged merchandise itself. The staff member following up on your inquiry will request these images as they are used in our discussions with the shipping company. Hold on to all packaging as this may be required to resolve a claim with the shipping company. Once we evaluate the damage, you will be contacted about any next steps.
Digital Course Materials
An access code is a password used to access course content online. The kind of content depends on the course but may include practice exam questions, interactive videos, and course assignments and, of course, subscriptions to e-books.
An access code can include just one type of content or
all
these things.
Each one is different.
Where is my e-text or access code?
After completing your purchase online, the redemption code is emailed to the address you provided on your web order with instructions on how to redeem your publisher's e-text (access) code. If your class is using a
n
e-text
from
Willo
Labs
, you will not receive an access code
;
instead,
you will have immediate access through your Brightspace page.
How do I redeem my e

-

text

or digital access code?
Getting your e-text is an easy two-step process.
Once you complete your purchase, we will provide you with a redemption code and instructions. This works as your proof of payment to the publisher that you have paid for access to the e-text.
Once you

redeem the code on our website

, you will be emailed an access code and instructions that direct you to the publisher platform.

It is important to follow instructions to ensure you register and set up your e-text correctly

.
If your course is part of our Dalhousie First Day Digital Program, a pilot program in partnership with Willo Labs, you will not receive an access code. Once you make your purchase you will have access to the content in your Brightspace course page.
Occasionally we have a printed access code that is used. These will be mailed to you or you can pick them up. If you live a long distance away or need the code immediately, we can open it and send you a picture.
Printed access codes sometimes come in shrink-wrapped textbooks. Be sure to scratch the silver coating and do not peel it.
I can't find my redemption code for my e-text or access code.
After completing your purchase online, the redemption code is emailed to the address you provided on your web order with instructions on how to redeem your publisher's e-text (access) code. Be sure to check your spam folder for emails from
bookstore@dal.ca
as your computer may have flagged them as spam.
If I buy an e-

text

, do I have access forever?
It depends on the publisher and the e-text. Most are a
180
-
day (
six-
month) subscription. Some are lifetime access. We try to list the subscription length in the title when we have the information to share.
Do I really need an access code?
If an access code is marked 
"
Required
"
, at least part of your grade will be related to
,
and/or come from
,
the online content. If an access code is marked
"
Optional
"
, it generally means the material is supplementary to the lesson plan and will enhance your overall understanding of the course material.
If I get a message saying my code has already been activated, what should I do?
You will need to contact the publisher of that access code.
My access code doesn't work; what do I do?
Were you able to redeem the
Bookstore
redemption code for the
p
ublisher's
access code? If so, you should contact the
p
ublisher
for technical support. Once you have received
and entered the second
access code, you are on the
p
ublisher's
platform, and we aren't able to troubleshoot any issues that you may be having. You should have received a support phone number or email address for the
p
ublisher's
technical support team when you received your access code. If not, please
reach out to us
, and we can connect you with the
p
ublisher
.
Can two people share one access code?
No. Each access code can only be registered to one individual.
Can I sell my code when I finish the course?
No. Access codes are designed to expire at the end of your course and cannot be sold or transferred.
Pick-up Information
Where are you located?
We have three locations on the following Dalhousie University campuses:
Studley campus: Our main store is located on the bottom level of the Student Union Building, 6136 University Ave.

Sexton campus: We operate a counter service in the Student Success Centre located in the B Building, 1360 Barrington St.

Agricultural campus: Serving Aggies is our location on the Dalhousie Agricultural campus. It is located in the Cox Institute, 50 Pictou Rd. (level 2), room 254.
Yes! By appointment, you can pick up your order Monday–Friday. Please go to our In-store Pickup page

to book an appointment after receiving

c

onfirmation

that your order is ready.
Can someone else pick up my web order, or does it have to be me?
Yes, someone else can pick up your order on your behalf. The person picking up the order will need a copy of your web order confirmation. They will also need to show their valid student card
(DalCard)
or government-issued photo I.D.
Returns
What is your return/exchange policy?
Can I return my textbook?
For Winter term, we accept
book
returns in new condition until the last Friday in January.
E-texts and access codes are not refundable.
Please see
o
ur
Returns Policies page
for
more information about our
refund and
exchange
policy
.
E-Texts and access codes are not refundable. Our refund and exchange policy can be found
on our
Return Policies page
.
Can I return this text if it's not in the shrink wrap?
I want to return my order, but it is past the deadline to return; what can I do?
Unfortunately, once the refund deadline has
passed,
we can no longer refund your purchase.
Can I sell my textbooks at the Dal Bookstore?