Grad Rings
As a health and safety precaution, grad rings are not available to try on in the store at this time.
How to Order Your Grad Ring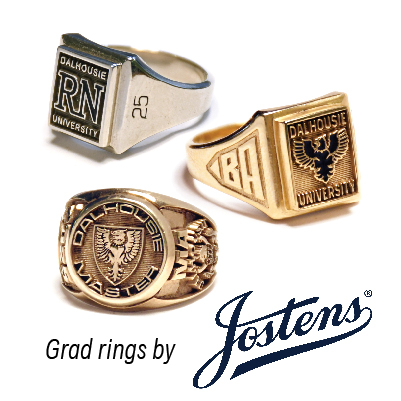 View our online catalogue of available grad rings or view Jostens' printable grad ring flyer [PDF].
Don't know your ring size? Size your ring using this helpful sizing guide [PDF].
Pay your ring deposit online.
Complete the ring information form that will be sent with your confirmation email. This form will collect additional details such as your ring size, engravings, etc.
Jostens will contact you to arrange for the remainder of the payment. Your deposit will be subtracted from the total cost.
If you have any questions about Jostens Maritimes grad rings or how to order, please contact jordan.lorette@jostens.com.
Ordering Your Barley Ring

The Barley Ring is available for Dalhousie students graduating from our Agricultural Campus in Truro.
See the Barley Ring website for more info.