March Madness Clearance Sale
Monday, March 2 - Sunday, March 15
SUB & AC Bookstore locations
The time of year has come once again for the Dal Bookstore to clear out stock in advance of our year-end inventory!
Select markdowns:
T-shirt from $5-$15
Hoods & Crews $20
Sweatpants $15
and MUCH more!

Between March 2 & 15, you can take advantage of these fantastic in-store savings and stock up on some great select clothing and giftware—some of which you will not see again in-store! Swing by SUB or AC* Bookstores on March 2 and get these deals before they're gone!
Below are just SOME of what you will find at at March Madness, Monday, March 2!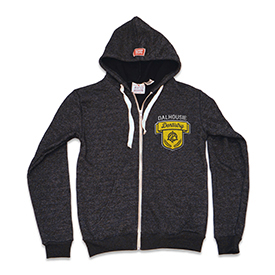 *Sale items will vary at our Agricultual Campus Bookstore
---
:::::::::::::::::: P A S T E V E N T S ::::::::::::::::::::::
The 10th Annual Dal Bookstore Annual Yard Sale

Tuesday, Nov. 26 - Thursday, Nov. 28
DSU Council Chambers, 2nd Floor Student Union Building
Come one, come all, to the Dal Bookstore's 10th Annual Yard Sale!
Nov. 26 - Nov. 28, you're invited to take part in the HUGE savings at the Dal Bookstore's Annual Yard Sale!
This isn't just any Yard Sale. This year marks 10 years since Yard Sale made its first appearance on our Halifax Campus. Since then, this highly-anticipated sale event has grown in popularity and has expanded to our Agricultural Campus Bookstore.
This event is sure to please those shoppers who are eager to save on brand new quality clothing items which we will then mark down by up to 70% OFF*!
There will be many deals to be had over the course of this 3-day event but remember: QUANTITIES GO QUICKLY, so the early bird gets the worm!
For the second year in a row, we invite customers to browse in the bright and spacious DSU council chambers on the 2nd floor of the student union building. This sale event is in-store only.
Adult Unisex Crews
$44.95 $19.95

Adult Unisex Hoodies
$49.95 $24.95

Youth Hoodies $19.95
Youth T-shirts $7.95

Men's & Women's Sweatpants

$19.95

Women's Trackpants
$15.00

Women's Jackets

Assorted $185.00 $49.95

Men's Jackets

Assorted 3 in 1 $69.95

And....

Bags
Belts

Hats

Mittens

Jewelery

Scarves

Socks

and much more!

Roots Assorted Handbags

Assorted styles and pricing

See you there!
Sign up for our Bookstore Buzz or be sure to follow us on Facebook, Twitter or Instagram for news about everybody's favourite sale!
*MSRP
---
Complimentary Framing Services
Let us do the honour of framing your degree
Oct. 8 | Halifax Convention Centre, Rm. 102
During Dalhousie's Fall Convocation on Tuesday, Oct. 8, we will have framing specialists a set up in room 102 of the Halifax Convention Cetnre providing complimentary framing services. This service is free and one that we enjoy providing, so please join us, have your degree framed, browse a selection of giftware and take a photo at our selfie station!
To learn more about our framing services and other promotions, please visit our Dal Grad page.
---

Community Night
Thursday, Aug. 29 | 5:00 p.m.-8:00 p.m.
On Thursday, August 29, the SUB location Bookstore is open until 8PM to help you get a jump on the new school year!

Purchase your textbooks, check out the new Dal swag, enjoy some treats, enter to win prizes and more!

During Community Night, we will also have plenty of staff on hand to answer any questions you may have about your course materials.
Need a DalCard?
If you need to get your DalCard, the DalCard Office is also open until 8pm that evening so be sure stop by before heading to the Bookstore!
Our good friends from the DalCard Office will also be on-site during Community Night to help students load their cards because remember: When you spend your Dal Dollars at the Bookstore on general merchandise or textbooks, you earn 5% towards your next purchase!
Visit the DalCard Office at 6230 Coburg Rd. to get your DalCard
Stay Tuned
We're still in the planning stages of this popular back-to-school event so stay tuned!
Follow the Community Night 2019 Facebook event page to be notified new details