News & Events
Notice to Dalhousie Bookstore customers:
The Canadian Union of Postal Workers (CUPW) issued a notice on Oct. 16 that it would be in a legal position to strike as early as Monday, Oct. 22, 2018.
This would be a rotating strike and would happen in one or two specific locations at a time for 24 hours.
During this time, the Dalhousie Bookstore will be working with our alternate couriers to ensure timely delivery of online orders.
Agricultural Campus Course Materials
Due to the fire in June at the Cox Building, which houses the Agricultural Campus Bookstore, textbooks and other course materials will be available beginning in August at a temporary storefront in Jenkins Hall. Course materials will also be available to order online.
If you have any questions about the Bookstore or its operations, please contact the Dal Bookstore at bookstore@dal.ca. For updates on the Cox Building fire, visit the Dal Agricultural Campus website.
Sign up for our Bookstore Buzz, eNewsletter to be notified of when these course materials are available to purchase.
Cox Institute Fire
As many of you are aware, there was a fire in the Cox Institute at the Agricultural Campus in Truro on the evening of June 20, 2018.
The Agricultural Campus Bookstore, which is located in Room 142 of Cox, will remain temporarily closed until further notice.
In the interim, if there are any questions or concerns, please contact the Dalhousie Bookstore Director, Tina Shannon at tina.shannon@dal.ca or 902-494-6707.
For further details and updates about the Cox Institute, please see Cox Fire Updates
SUB Bookstore Renovations
We're improving your shopping experience!
Beginning June 8, the SUB Bookstore will have limited access to our general merchandise area Friday and Saturday of each week in June to assist in expediting our scheduled renovations.
While the store undergoes these improvements, we will have staff on hand to assist in meeting our customers' needs.
Bonus offer:
To thank our customers for their patience during this time, we're offering 15% off* regularly priced clothing, giftware and stationery when you order online during the month of June.
We'll pack up your order and you can pick it up in-store or have it delivered!
*Excludes frames

TUESDAY, APRIL 3, 2018:
Our year-end inventory is now complete! The SUB Bookstore will be opening Tuesday April 3 at 9:00am rather than the 12:00pm time as previously advertised.
******************************************************************************************
All Dalhousie Bookstore locations will be closing for inventory beginning March 29.
Thursday, March 29
Agricultural Campus and Sexton Campus Bookstores are closed all day on Thursday, March 29 and will re-open at 9:00am on Monday, April 2.
Friday, March 30 is Good Friday and in observance of this holiday, all Bookstore locations will be closed on this day.

Monday, April 2 & Tuesday, April 3
The main Dal Bookstore located in the lower level Student Union Building will close for the entire day on Monday, April 2 and will remain closed until 12:00pm on Tuesday, April 3.
Please also note that due to the Easter long weekend followed by inventory on April 2 & 3, we will be unable to process any incoming web orders between 2:00pm on Thursday, March 29 until 12:00pm on Tuesday, April 3.
We apologize for any inconvenience this may cause and thank you for your patience.
***********************************************************************************************

Please be aware: Due to the university-wide holiday closure, all Dalhousie Bookstore locations will be closed beginning at noon on Friday, Dec. 22 and remain closed until 9am on Tuesday, Jan. 2. During this time, we will be unable to process any online orders.
Online orders must be completed by Dec. 20 to allow for processing. Any orders completed during the closure will not be processed until we re-open on Jan. 3.
We thank our customers for their continued support and wish everyone a safe and happy holiday!
*********************************************************************************
Our New Website
We've improved our website to serve you better. Our new website offers:
Improved product search: Search on either books or general merchandise. A new permanent Cart icon allows you to easily see the items you've selected no matter where you are on the website.
MyBooklist: This new time-saving feature allows students to instantly generate a list of textbooks for their program just by entering their NetID and password.
Responsive design: Whether you're visiting the site from a laptop, mobile phone or tablet, the layout will adjust automatically to ensure smooth and easy-to-use functionality.
Greater selection: We've expanded our online catalogue to offer even more great items for both current and past students.
Fresh and bold new design: The look and feel was given a complete overhaul with the aim of making the site easier to navigate and providing a more satisfying online shopping experience.
We're committed to providing a secure and simple online shopping experience. And we're just getting started! Let us know what you think of our new website by completing this quick survey.
Dal Author: David McNeil
IN THE PRESSURE OF THE MOMENT
Remembering Gerry McNeil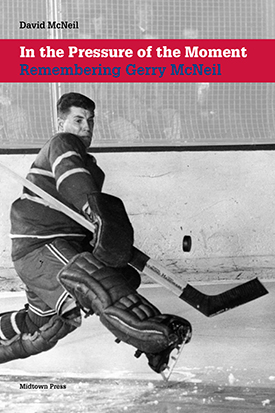 Gerry McNeil was the number one goaltender for the Montreal Canadiens hockey team from 1950 to 1954 and won two Stanley Cups with the club. This book discusses his career, wedged as it was, between two Hall of Famers – Bill Durnan and Jacques Plante. From his entry into hockey as a teenager to his incredible performance of over 218 minutes of shut out play against the Detroit Red Wings, Gerry McNeil's is the story of an extraordinary Canadian.
As readers follow McNeil's journey from understudy to mainstay with the Habs, including four consecutive appearances in the Stanley Cup final, they're also reminded of how different the game was for fans and players then. This book will appeal to any fan of the NHL's "Original Six Golden Era" with its look back at a time when hockey was considered "pure" and only captured "in the moment" before technology gave us endless "instant replays". Imagine - only a radio broadcast, a newspaper story and a few
professional photographs. Fans came to see Richard battle Howe. Fans saw the overtime Leaf goal by Barilko on McNeil. Fans knew the name of every player because there were only six teams and trades were rare. This is a slice in time from the "Original Six" era when players travelled by train and fans wore suits and dresses.
The Montreal Habs have one of the strongest fan bases in the NHL and any book related to the Habs is considered to have a built in audience that spans the country. Written by a son who lived the achievements of the Habs through his father's first-hand accounts, David McNeil's book offers an insider's view of what it was like to play with The Rocket, Elmer Lach, Dickie Moore and against many legendary players of the 50's such as Gordie Howe and Ted Lindsay.
---
About the Author
David McNeil is the son of Gerry McNeil. Like his father, David was born in Quebec City and now lives in Halifax, Nova Scotia where he is a Professor of English at Dalhousie University. He teaches among other topics Sports Literature and Culture: Hockey. He is the author of published articles on hockey literature and hockey in general.
---
Pressure of the Moment is available at the SUB Bookstore for $24.95 +tax while quantities last.
Get your copy today!
Paper Hearts Halifax

As you may or may not have heard, beginning Oct. 1, Halifax's own Paper Hearts cards will be available at the Dalhousie Bookstore!
Owner & Designer, Stefanie MacDonald started this business out of the need for a more diverse and inclusive sentiment when shopping for a card for her Aunt and her Aunt's wife. She couldn't find exactly what she was looking for in a card, so she made them the Let's Grow Old Together card featuring an illustration of two little old ladies, which was well recieved by her Aunt and new wife...and many others since!
Paper Hearts now has over 30 designs for all kinds of connections and relationships and not to mention, a growing list of 19+ retail partners that the Dal Bookstore will soon join!
Stop by and check out this selection of cards on Oct. 1. You're sure to find just the right message.
Fun Facts:
Stefanie MacDonald is a graduate of Dalhousie Management
Paper Hearts products are printed FSC, SFI & Rainforest Alliance certified paper