Books in Res
Living in residence? There's no better way to save time and avoid the lines than using our Books in Res service!
Order your textbooks and course supplies online by Aug. 30 and we will pick them, pack them into a sturdy box, and deliver them to your residence or a nearby pick-up location for Move-in Day, Sept. 2 – all at no extra cost!
It's easy! Place your order through our website and then select "Pickup at MY DALHOUSIE UNIV RESIDENCE" as the shipping address at check out.
To get started, visit Textbook Search now. And be sure to also check out our wide selection of Dorm Goods , including bedding, towels, pillows - even mini-fridges and microwaves!
What to expect
Pick up your books and other merchandise on Move-in Day, Saturday, Sept. 2, between 9 a.m. and 4 p.m.
Delivery is free!
If a textbook is not available when you place an order, it will not appear on the list of available books. Please re-order at a later date or contact Shauna Nickerson at Shauna.Nickerson@dal.ca for more information.
Be sure to select "Pickup at my Dalhousie Univ Residence" as the shipping address.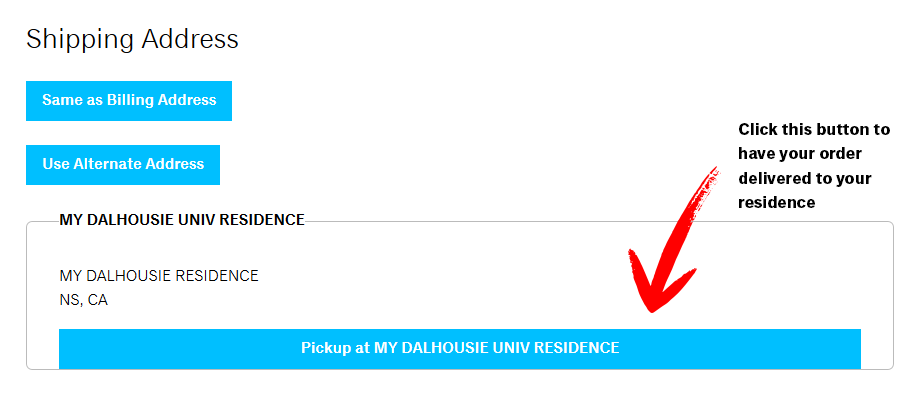 Pick-up locations by residence
Gerard Hall—Gerard Hall front desk
Glengary Apartments—Risley Hall front desk
Grad House—Gerard Hall front desk
Howe Hall—Cameron study hall in Howe Hall
LeMarchant Place—LeMarchant Place front desk
Mini Res—Cameron study hall in Howe Hall
Risley Hall—Delivered to student rooms
Shirreff Hall—Shirreff Hall dining hall
Agricultural Campus—AC Bookstore, Cox Institute Rm. #142